BYJU's Off Campus Drive 2023 for Business Development Associate (BDA) | Any Degree | Across India | 8-10 LPA
Are you on the hunt for full-time jobs near you or urgent job opportunities? BYJU's Off Campus Drive 2023 might just be the golden ticket you're looking for.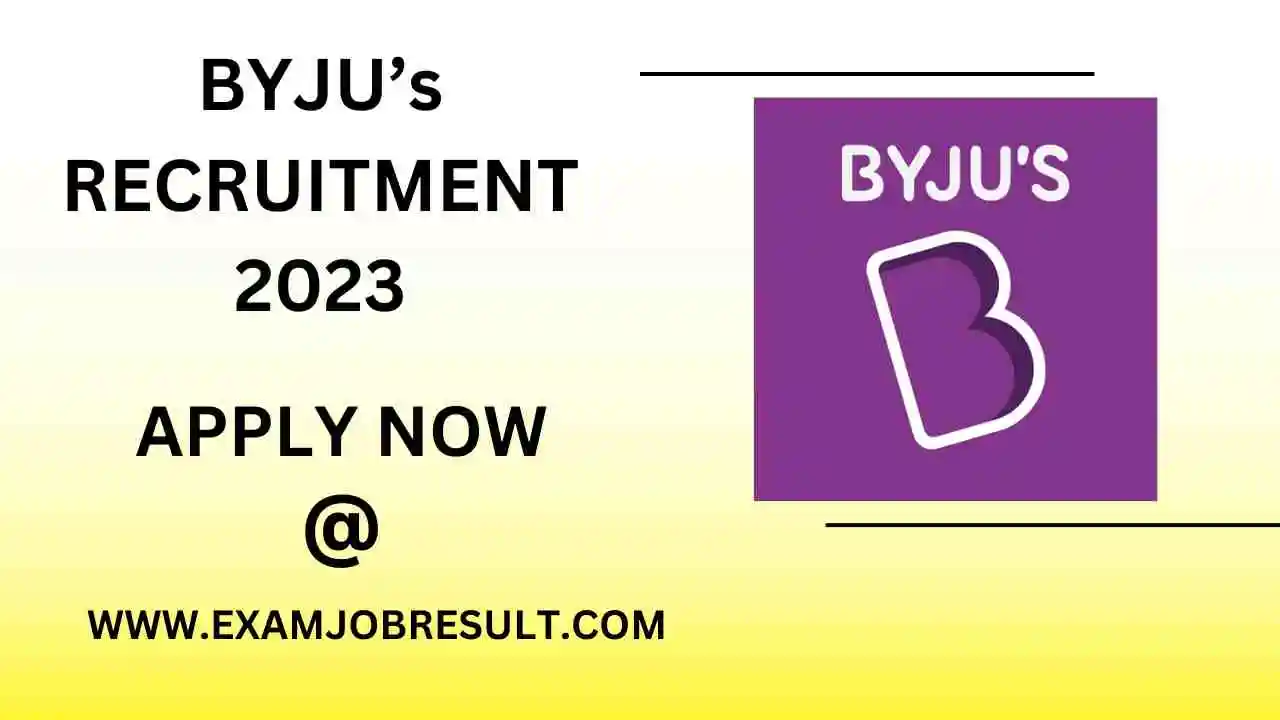 About BYJU's: BYJU's, a part of Think & Learn Pvt Ltd, is excited to announce its Off Campus Drive for 2023. We are on the lookout for dynamic Business Development Associates (BDAs) who can help us expand our horizons. If you are a graduate with Any Degree and have a passion for business development, this is your chance to shine.
BYJU's Recruitment 2023 Details:
Job Role: Business Development Associate
Qualification: Any Graduate
Batch: Any Batch
Experience: Freshers/0-2 Years
Salary: Rs. 8 – 10 LPA
Key Responsibilities:
As a Business Development Associate (BDA) at BYJU's, you will play a crucial role in our growth story. Your responsibilities will include:
Engaging with key customers and building trust-based relationships.

Identifying opportunities to expand our business and fostering positive relationships with new clients.

Scheduling counseling sessions with parents and children, conducted virtually on weekends.

Offering solutions to improve the learning experience based on the child's needs.

Maintaining excellent communication skills and upholding our organization's core values.
Additional Details:
Interacting with customers over calls from Tuesday to Friday and scheduling counseling sessions for weekends (Sat & Sun).

Conducting counseling sessions during weekends and identifying learning challenges.

On-the-Job Training (OJT) phase, where you'll apply theoretical knowledge gained during training.

Successful trainees will have the opportunity to become BDAs, subject to management approval.
Benefits:
Allowance (ATP during OJT): INR 10,000 for 3 weeks.

Stipend (ATP during OJT): Additional stipend of INR 16,667 per month from the 2nd month of training till the end of the training period.

CTC (BDA – post qualification after training): INR 7,00,000 – 8,00,000 (4 – 5 Lakh fixed pay + 3 lakh performance pay) for Inside Sales.
If you are ready to embark on a rewarding career journey and meet the criteria mentioned above, click the link below to apply:
Apply Here: BYJU's Recruitment 2023
Don't miss this opportunity to join the BYJU's family and contribute to the future of education in India. Act now, as these positions won't last long.