Cognizant Off Campus Drive 2023: Process Executive | 3 LPA
Full Time Jobs Near Me | Urgent Jobs Near Me: Are you on the lookout for a career opportunity in the IT sector? Look no further! The Cognizant Off Campus Drive 2023 offers a golden opportunity for job seekers to kickstart their careers in the world of Information Technology.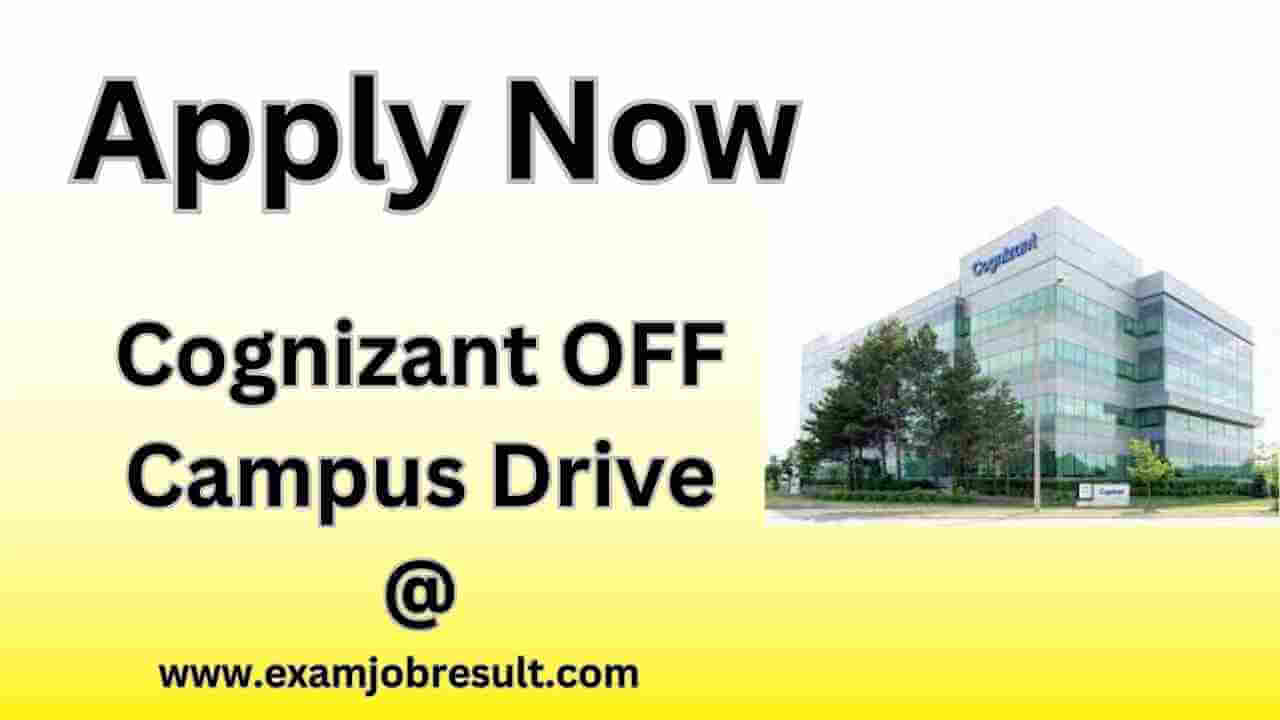 Cognizant is actively scouting fresh graduates from the 2023, 2022, and 2021 batches for a range of exciting roles. To ensure you're well-prepared for the Cognizant Recruitment 2023 process, we've outlined the eligibility criteria, selection process, required skills, and essential documents you'll need for Cognizant Off Campus Drive 2023, Cognizant Recruitment 2023, and Cognizant Hiring 2023.
About Cognizant
Cognizant, a global technology leader, calls Teaneck, New Jersey, its home, but its influence stretches far and wide across the globe. Established in 1994, Cognizant has risen to prominence in the information technology services and consulting industry. The company is renowned for delivering an extensive array of services, including IT consulting, digital solutions, and business process outsourcing. Cognizant's primary mission is to empower businesses in their digital transformation journeys by harnessing cutting-edge technologies to foster innovation, efficiency, and growth.
Cognizant's vast expertise and deep industry insights have earned it a stellar reputation for providing top-notch services to clients across various sectors, including healthcare, financial services, technology, and manufacturing. By remaining at the forefront of technological advancements, such as artificial intelligence, data analytics, and cloud computing, Cognizant has empowered clients to adapt seamlessly to the rapidly evolving digital landscape. With an unwavering commitment to forging meaningful and enduring partnerships, Cognizant continues to play a pivotal role in helping businesses navigate the complexities of the digital age and realize their strategic goals.
Cognizant Recruitment 2023 Details: Full Time Jobs Near Me
Cognizant 2023: Process Executive Job details

Job Role

Process Executive – Data

Qualification

Graduate

Batch

2021/2022/2023

CTC/Salary

Rs 3 LPA/-

Eligibility

Graduate (excluding B.E, B.Tech, MCA)

Must-Have Skills

MS Excel

Good-to-Have Skills

Fu

nd Operations

Data Management

APPLY ONLINE

CLICK HERE
Responsibilities
Business, Customer: Minimal customer interaction under guidance. Understanding of domain process and sub-process functions and terminologies (such as SOP QC checklists).
Project, Process: Handling first-level processing of assigned transactions. Complex problems (procedures, processes) are referred to the Supervisor or Line Manager. Adherence to quality requirements and achievement of targets and volumes within the given TAT (Turnaround time).
Adherence: Adherence to the mandatory industry regulations and compliance requirements for the given process.
Knowledge Management: Understanding various document templates and standards (such as SOPs) to interpret documents and related terminologies.
People, Team Management: Adherence to organizational hygiene and compliance needs in terms of timesheet submission, assimilation, and attendance.
How to Apply: Part-Time Jobs Near Me
Don't miss this fantastic opportunity to embark on a promising career journey with Cognizant. To apply for Cognizant Recruitment 2023, click the link below:
Apply Now for Cognizant Recruitment 2023
Join us at Cognizant, where innovation, technology, and your career converge. Together, we'll shape the future of IT.
*Please note that the salary is subject to change based on company policies and experience level.