Unlock Your Teaching Career Potential: Assistant Professor Position at K J Somaiya Institute of Management
Assistant Professor Job: K J Somaiya Institute of Management is actively looking to fill the position of Assistant Professor. This role offers a dynamic opportunity to contribute to the academic and research excellence of our institution.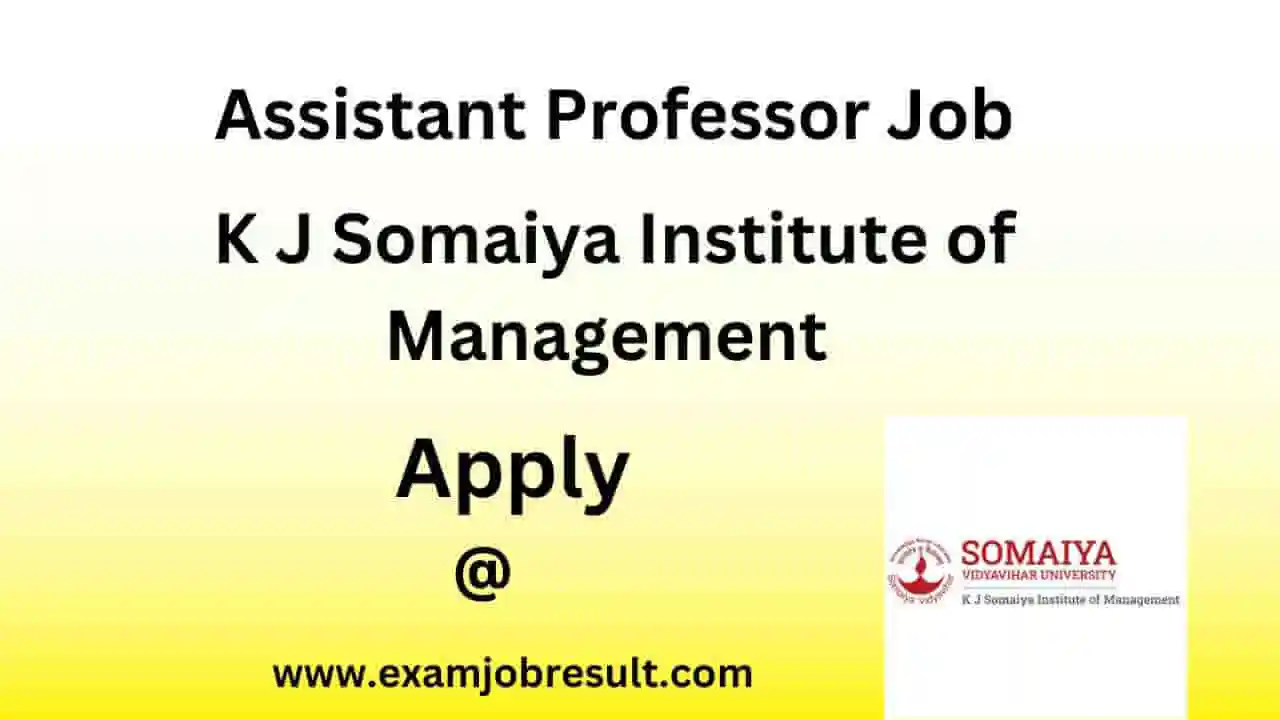 Assistant Professor Job: Below is the detailed job description for the Assistant Professor position.
Position: Assistant Professor
Institution: K J Somaiya Institute of Management
Job Code: KJSIM_BA
Application Deadline: 30-Oct-2023
Assistant Professor Job Description:
As an Assistant Professor job at K J Somaiya Institute of Management, you will play a crucial role in shaping the future of our students and contributing to our academic and research endeavors. The key responsibilities of this role include:
Qualification:
Required Experience:
As per norms and guidelines of SVU
Responsibilities:
Academic Excellence: Facilitate courses in MBA programs, which includes:

Developing syllabus and session plans.

Creating teaching plans that engage and inspire students.

Designing assignments and projects to enhance learning.

Conducting classes for courses across various programs, employing effective pedagogical methods.

Setting question papers and overseeing both internal and external evaluations.

Moderating end-term evaluations to ensure fairness and accuracy.

Research Contribution: Expected to actively participate in research activities, including:

Writing and submitting cases and research papers to relevant conferences and journals.

Taking part in Management Development Programs and Faculty Development Programs.

Contributing to academic conferences and events.

Administrative Roles: Engage in administrative duties that contribute to the institution's functioning, including:

Membership in committees at the department, institute, and university levels.

Organizing round table discussions, panel discussions, and other academic events.

Collaborating with fellow faculty members, staff, and student volunteers to manage events effectively.

External Engagement: Establish and nurture connections beyond the institution, such as:

Participation in university events.

Building relationships with industry practitioners for student projects, consultancy, and sponsorship of institute events.

Inviting industry experts to contribute to various academic activities and events.
Key Skills:
Strong communication skills to effectively engage with students and colleagues.

Facilitation skills to create an engaging and inspiring learning environment.

Research aptitude to contribute to the academic and research goals of the institution.

Proficiency in MS Office and data management for efficient administrative tasks.
This position offers an exciting opportunity to be part of a vibrant academic community at K J Somaiya Institute of Management. If you are passionate about teaching, research, and academic excellence, we encourage you to apply and be a part of our dedicated team.
To apply for this role, please visit site career and teaching form. Don't miss the chance to make a significant impact in the world of Business Analytics education.