Latest SITTTR Syllabus Best Diploma Course In Kerala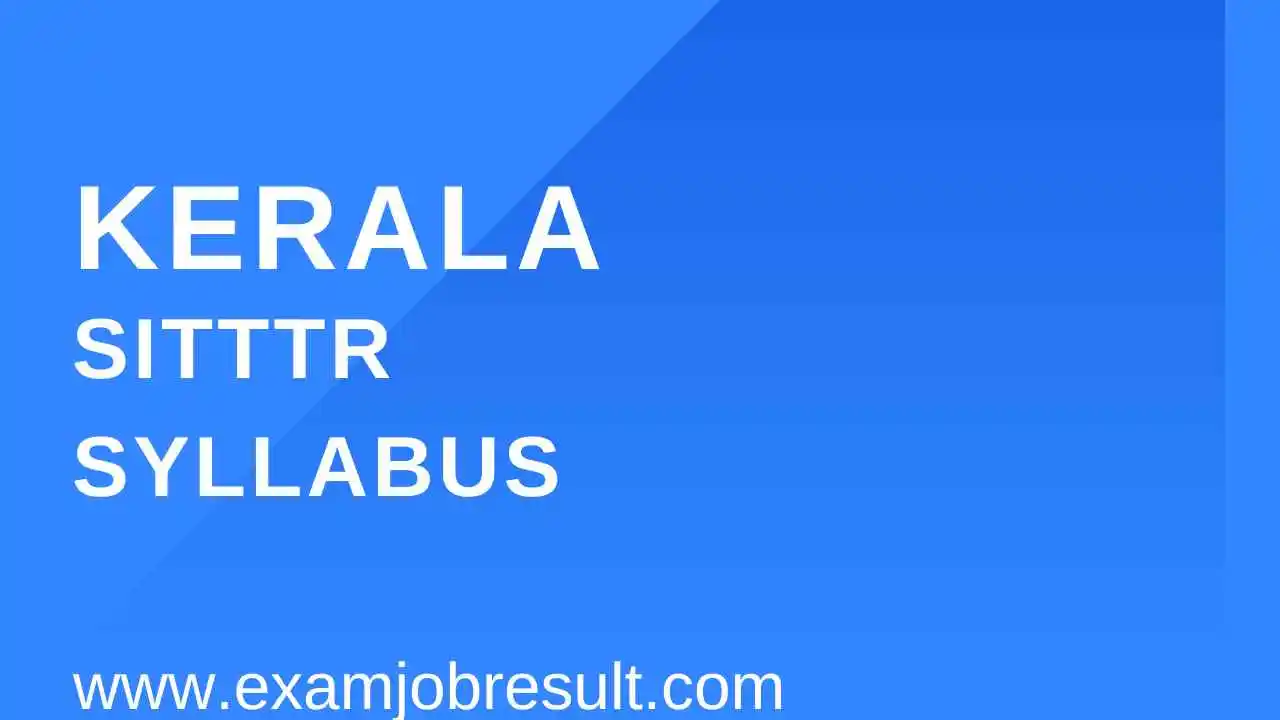 Today's biggest query of out 10+2 pass-out students is what to do next to get better career opportunities. They are very confused and are in dilmah what to do and how to do. In this article, we come up with a problem that we will going to solve for all students. We are providing here information about the best diploma course in Kerala, SITTTR along with SITTTR Syllabus which is commonly known as the State Institute of Technical Teacher's Training & Research. This course provides a big opportunity to all candidates who are passionate about teaching and wants to become Technical teacher.
What Is SITTTR?
The SITTTR, which stands for State Institute of Technical Teachers Training & Research (formerly known as the Curriculum Development Centre), was established by the Government of Kerala in 1990. Its primary purpose is to promote Technical Education within the state. Specifically, it focuses on enhancing Polytechnic Colleges through activities such as regular curriculum updates, ensuring effective curriculum implementation, providing training for educators, monitoring academic progress, developing educational materials, and creating laboratory manuals. The institute is located on its dedicated campus in Kalamassery, Ernakulam District, and remains a key player in this field.
The full form of SITTTR is the State Institute of Technical Teacher's Training & Research. It provides various courses according to the interests and eligibility of Students. Following in the table details of the Course and its eligibility are provided below:
Admission Process In SITTTR
SITTTR has taken a significant step forward by creating a user-friendly web-based platform tailored to enhance the admission processes for Polytechnic Colleges. This cutting-edge system, originally conceived by a dedicated member of the Polytechnic community, has been meticulously executed by SITTTR, resulting in a highly efficient and transparent admission process.
What sets this initiative apart is its origin within the Polytechnic community itself, showcasing a deep understanding of the specific needs and challenges faced in the admission process. It's a testament to the collaborative spirit and innovative thinking that thrives within the institution.
What's particularly exciting is that the success of this program opens the door to possibilities beyond its initial scope. The adaptable nature of this system means that it can be easily adapted and replicated for use in various other departments. This scalability not only benefits Polytechnic Colleges but also holds promise for optimizing processes in diverse educational and administrative domains. It's a remarkable example of how forward-thinking institutions like SITTTR are driving positive change and efficiency in education.
SITTTR's Role in Curriculum Development and Faculty Training
In pursuit of fostering superior teaching practices, the State Institute of Technical Teachers Training and Research (SITTTR) has been dedicated to crafting valuable educational resources and conducting regular training sessions for educators. Within this endeavor, SITTTR has taken a significant step by creating an indigenous Trainer's Manual, thoughtfully tailored to align with the unique social and cultural landscape of Kerala.
Recognizing the indispensable nature of training in enhancing teaching effectiveness, the educational department has accorded it the prominence it deserves. Notably, SITTTR plays a pivotal role in training polytechnic faculty members, primarily based at its Kalamassery center. Additionally, faculty members receive training at the National Institute of Technical Teachers Training and Research in Chennai, along with its extension centers in Kalamassery, Hyderabad, and Bengaluru. The National Institutes of Technical Teachers Training and Research (NITTTRs) in Kolkata, Chandigarh, and Bhopal also contribute to this essential facet of educator development.
How to get SITTTR Syllabus?
To get  SITTTR Syllabus you just need to click the Below Link and you will be redirected to the Official website of SITTTR. There you will find all the details regarding admission and SITTTR syllabus of all concerned branches.
To get SITTTR Syllabus

Click Here
For More syllabi of various courses and job Exam

Click Here