Jawahar Navodaya Vidyalaya 5th Class Exam Question Paper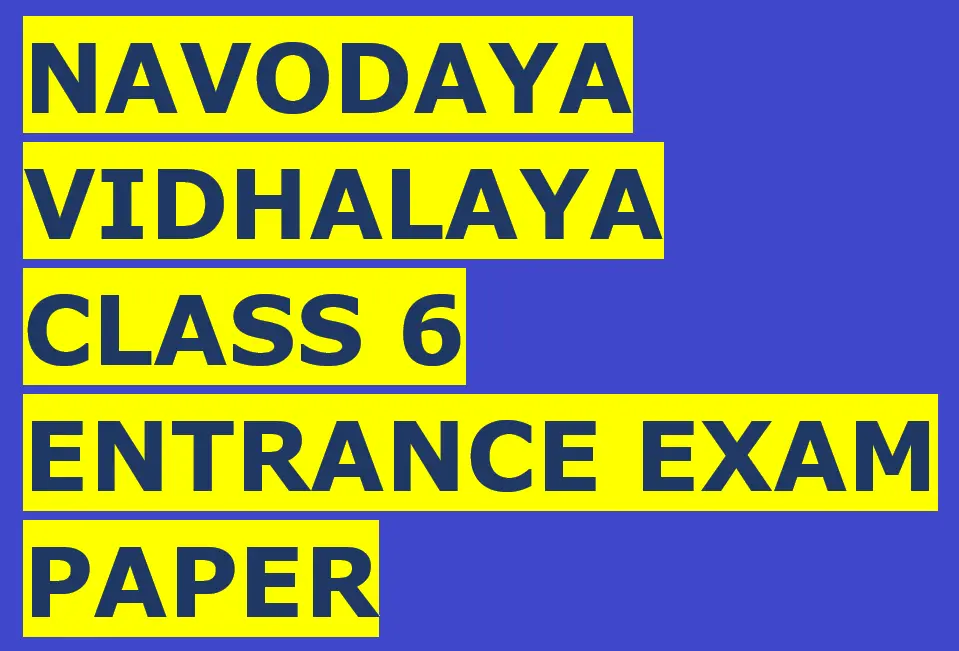 5th Class Navodaya Exam Paper  : Are you gearing up for the 5th Class Navodaya Exam and in need of past exam papers to aid in your preparation? Look no further! We have the perfect solution to your quest for Navodaya Exam Previous Papers right here.
Your Gateway to 5th Class Navodaya Exam Preparation Success
Our up-to-date and improved model papers are invaluable tools for gaining insights into the latest exam format and scheme. So, if you're eager to excel in the 5th Class Navodaya Exam, you're in the right place to access these essential resources.
The Significance of 5th Class Navodaya Exam Preparation
Here, we are delighted to share comprehensive resources for Class 5th Navodaya Model Paper 2023, complete with practice questions tailored for this year's entrance examination. The Jawahar Navodaya Vidyalaya Selection Test (JNVST) stands as a prominent national-level entrance exam administered by the Navodaya Vidyalaya Samiti (NVS). Its primary purpose is to facilitate the admission of students into the 6th grade at Jawahar Navodaya Vidyalayas (JNVs) situated all across India.
Previous Year Paper: Supercharge Your Preparation with Past Papers
Preparing for this exam can indeed be challenging, but fret not, for there is a proven method to make your preparation journey somewhat smoother. By diligently studying previous year question papers and model papers, you can significantly enhance your readiness.
Resources for All Students
This article serves as a valuable resource for students of all mediums, including Hindi and English, who seek access to previous year question papers for their Class 5th Navodaya entrance exam preparation. These question papers are meticulously crafted in alignment with the Navodaya syllabus for the 5th-grade examination and are available in PDF format. In this article, we have thoughtfully compiled all the previous year question papers ranging from 2010 to 2018, along with their respective answer keys.
Your Comprehensive Preparation Guide
Our intention is to support you in your quest to excel in the 6th class entrance exam. In addition to these question papers and answer keys, we will also provide you with an array of valuable resources, such as the best study materials, concise notes, recommended books, sample papers, and solutions for previous year papers.
Your Success is Our Priority
So, as you navigate through this article, rest assured that you will find a wealth of information related to the Navodaya Class 5th Syllabus. We are dedicated to assisting you in your preparation journey, ensuring that you have all the tools and knowledge needed for success in your upcoming exam or entrance examination. Keep reading, download the previous year question papers and answer keys, and make the most of these invaluable resources for your academic endeavors
Overview: 5th Class Navodaya Exam Paper 2023

Education Board

Navodaya Vidhyalaya Samiti

Affillation

Central Board Of Education

Category

Government

Language

Hindi, English and Local Languages

Name of the class

5 for entrance of 6

Previous Year Paper

Click At Last Page

Subject

English, Hindi, Arithmetic, Mental Ability

official website

Click Here
Eligibility:
Candidates are eligible only if they are from the same district where a Jawahar Navodaya Vidyalaya is located.

The candidate must be a student of Class 5th before September 30th.

The candidate's age must be between 9 to 13 years.

There is only one chance to appear in the JNV selection test for 6th Class.
JNVST Class 6 Preparation Tips for 2023-24:
Understanding the Navodaya Syllabus 2023 Class 6: To kickstart your preparation, it's essential to thoroughly review and analyze the Navodaya syllabus for 2023 Class 6. Create a structured study plan tailored to this syllabus.
Effective Note-Taking: Make it a habit to create comprehensive notes on key topics during your study sessions. These notes will prove invaluable for revision later on.
Concept Mastery and Doubt Clarification: Ensure you have a strong grasp of the fundamental concepts in each subject. Don't hesitate to seek clarification for any doubts you may have.
Balanced Focus on All Sections: The entrance syllabus typically comprises three sections. Allocate your study time wisely to cover each section thoroughly. This will enable you to answer questions from all areas.
Stay Confident, Stay Calm: Avoid unnecessary pressure. Believe in your abilities and your preparation. Confidence is key to performing well in the exam.
Maintain Composure During the Exam: On the day of the exam, resist the urge to rush through the questions. Keep a calm mind, and approach each question methodically and carefully.
Practice with Sample Papers and Previous Year Question Papers: To gauge your preparation level, make it a practice to solve sample papers and review previous year's question papers. This will help you identify areas that need improvement.
In conclusion, I hope these JNVST Class 6 Preparation Tips for 2023-24 prove beneficial for your exam readiness. If you have any queries or require further assistance, please feel free to ask in the comments. Keep visiting our website for more valuable resources.
Get 5th class Navodaya exam paper

Get Exam 2018

Click Here

Get Exam 2017

Click Here

Get Exam 2016

Click Here

Get Exam 2015

Click Here

Get Exam 2014

Click Here

Get Exam 2013

Click Here

Get Exam 2012

Click Here

For More Syllabus 

Click Here
Note* There is some Technical Problem in uploading Previous Year Paper you can get access By Click Here
Frequently asked questions:
Q: What is the full marks of the Navodaya exam?
A: The Navodaya exam consists of three sections: Mental Ability Test (50 marks), Arithmetic Test (25 marks), and Language Test (25 marks), making a total of 100 marks.
Q: What is the age limit for Navodaya 5th class?
A: Candidates must be at least 10 to 12 years of age to be eligible for the Navodaya 5th class exam.
Q: What is the passing marks in the Navodaya exam 2023?
A: The minimum passing marks for the Navodaya exam are 50 marks out of the total 100.
Q: Is Navodaya Vidyalaya English medium?
A: No, Navodaya Vidyalayas provide the option for candidates to take the exam in both Hindi and English mediums.