🌟Job HR Data Entry Assistant In USA🌟
JOBS In USA: Latest VAcancy for HR Data Entry In san francisco USA good salary Apply Now @ WWW.examjobresult.com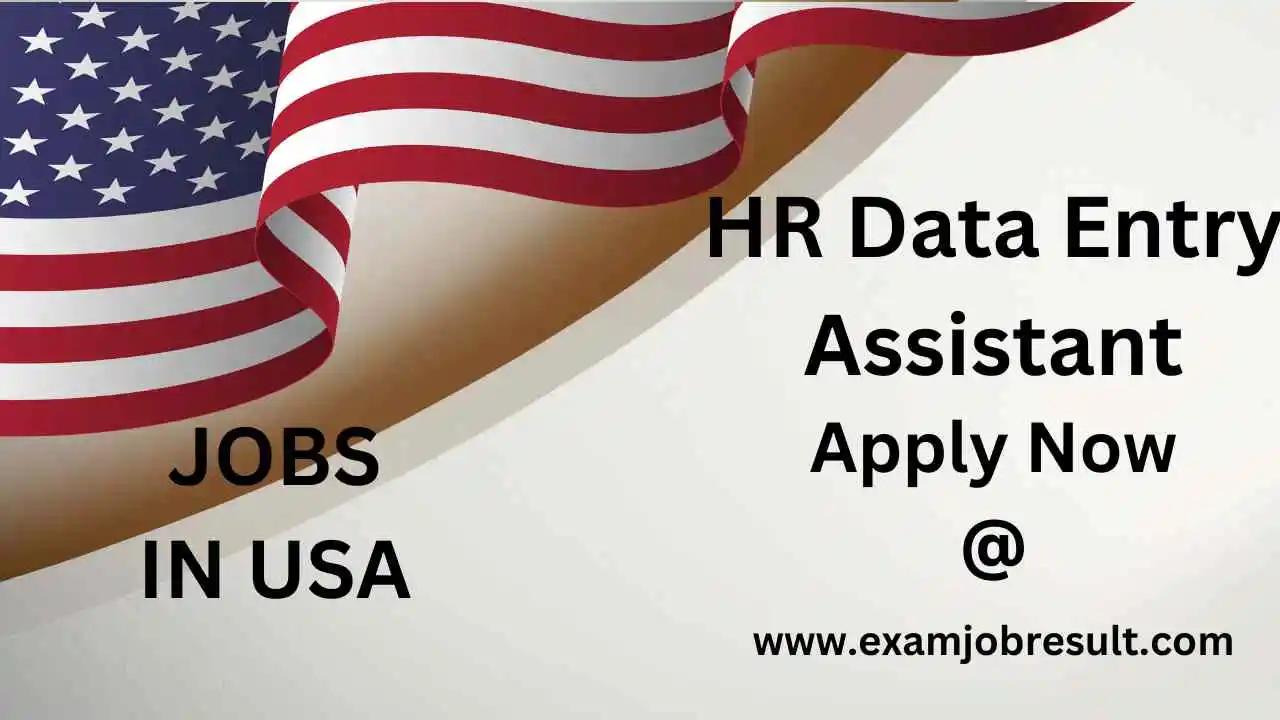 Job Category

Administrative & Clerical

Requisition Number

HRDAT013625

Posting details

Posted

October 27, 2023

Job Type

Full Time

Salary

$27 USD per hour

Locations :

Golden State DHQ

Salvation Army Divisional Headquarters

San Francisco, CA 94107, USA

Job Details
OVERVIEW:
The Human Resources Data Entry Clerk will assist the Human Resource Department with entering all employee data into all HR Files and may assist with specialized administrative tasks. This is a temporary position.
 DUTIES AND RESPONSIBILITIES:
Retrieves source files and ensures all data entered is accurate.

Verifies and logs missing data to ensure consistency and compliance.

Maintains confidentiality of sensitive information.

Sets up, maintains, enters, and audits employee records, ensuring completion and accuracy of details such as employee contact information, job classification, pay rates, and other key details.

Conducts background checks for employees and, as needed, for volunteers.

May create spreadsheets to track confidential data.

Reviews other HR data for deficiencies or errors.

Assist with special projects that require large amounts of data entry.

Assists with various compliance-based projects.

Conducts or assists with record audits such as mandatory reports, which may include I-9 audits, EEO-1 filings, payroll audits, and other compliance reviews.

Performs other related duties as assigned

Other related duties as required
Projects while on assignment:
E-Verify – Ensure all new hires are submitted to E-Verify in a timely manner

Employee File Audit – Audit employee files to find any incomplete or missing paperwork. Work with HR generalists to get any needed paperwork to complete employee files.

Kettle Season Assistance – Help with Kettle Coordinator and Bell Ringer Applications, Entry Review/Approvals, and Backgrounds
EDUCATION AND EXPERIENCE:
Associate degree or (2) two years relevant experience
SKILLS AND ABILITIES:
Excellent organizational skills and ability to work on multiple projects

Ability to work independently with minimal supervision

Ability to be discreet and confidential when dealing with sensitive employee issues

Proficiency with Microsoft Suite, including Excel, Outlook and Microsoft Teams
PHYSICAL REQUIREMENTS:
Ability to lift up to 25 lbs.
EQUIPMENT USED:
Modern Office Equipment and Relevant Software
ADA Statement
Qualified individuals must be able to perform the essential duties of the position with or without accommodation.  A qualified person with a disability may request a modification or adjustment to the job or work environment in order to meet the physical requirements of the position. The Salvation Army will attempt to satisfy requests if the accommodation needed is reasonable and no undue hardship would result.
Acknowledgment of Religious Purposes of The Salvation Army:
Please note that The Salvation Army has a religious purpose and status as a church.  We ask our employees that they do nothing to their relationship with The Salvation Army to undermine its religious mission.  Employees must agree and understand that their services are a necessary part of The Army's religious purposes and their work-related conduct must not conflict with, interfere with, or undermine such religious programs or The Army's religious purposes.
At-Will
Any employment relationship with this organization is of an "at-will" nature, which means that an Employee may resign at any time and the Employer may discharge an Employee at any time with or without cause.  It is further understood that this "at will" employment relationship may not be changed by any written document or by conduct unless such change is specifically acknowledged in writing by an authorized executive of this organization.
Qualifications
Behaviors
Preferred
Detail-Oriented: Capable of carrying out a given task with all details necessary to get the task done well
Motivations
Preferred
Self-Starter: Inspired to perform without outside help
Education
Preferred
Experience
Required
Equal Opportunity Employer/Protected Veterans/Individuals with Disabilities
The contractor will not discharge or in any other manner discriminate against employees or applicants because they have inquired about, discussed, or disclosed their own pay or the pay of another employee or applicant. However, employees who have access to the compensation information of other employees or applicants as a part of their essential job functions cannot disclose the pay of other employees or applicants to individuals who do not otherwise have access to compensation information, unless the disclosure is (a) in response to a formal complaint or charge, (b) in furtherance of an investigation, proceeding, hearing, or action, including an investigation conducted by the employer, or (c) consistent with the contractor's legal duty to furnish information. 41 CFR 60-1.35(c)